1) BEAUTIFUL PEOPLE ARE NOT ALWAYS GOOD,
BUT GOOD PEOPLE ARE ALWAYS BEAUTIFUL.
2) KNOWLEDGE IS KNOWING WHAT TO SAY,
WISDOM IS KNOWING WHEN TO SAY IT.
3) YESTERDAY = EXPERIENCE - TODAY = EXPERIMENT -
TOMORROW = EXPECTATIONS.
USE YOUR EXPERIENCE IN YOUR EXPERIMENT TO
ACHIEVE YOUR EXPECTATIONS.
4) BE NICE TO PEOPLE ON YOUR WAY UP B'COZ
YOU WILL MEET THEM ON YOUR WAY DOWN.
5) PHYSICAL STRENGTH IS MEASURED BY WHAT WE CAN CARRY AND INNER STRENGTH BY WHAT WE CAN BEAR.
6) ITS NOT A MATTER OF FINDING THE RIGHT PERSON BUT
ITS A MATTER OF BEING THE RIGHT PERSON FOR THE PERSON YOU CHOOSE TO LOVE.
7) IF YOU WANT TO KNOW YOUR PAST, LOOK INTO YOUR PRESENT CONDITIONS. IF YOU WANT TO KNOW YOUR FUTURE, LOOK INTO YOUR PRESENT ACTIONS.
8) HURT ME WITH THE TRUTH BUT
NEVER COMFORT ME WITH A LIE.
9) BAD ATTITUDE IS LIKE A FLAT TYRE. YOU CAN'T REACH ANYWHERE UNLESS YOU CHANGE IT.
10) ADJUSTMENT WITH THE RIGHT PEOPLE IS ALWAYS BETTER THAN ARGUMENT WITH THE WRONG ONES.
11) RELATIONSHIP WITH GOD IS THE BEST RELATIONSHIP YOU CAN HAVE. TRUST HIM AND EVERYTHING WILL TURN OUT FINE.
12) NOBODY HAS A PERFECT LIFE. EVERYBODY HAS PROBLEMS. SOME PEOPLE JUST KNOW HOW TO DEAL
IT IN THE BEST POSSIBLE WAY.
13) A HOPELESS MAN SEES DIFFICULTY IN EVERY CHANCE.
BUT A HOPEFUL PERSON SEES CHANCES IN EVERY DIFFICULTY.
14) YOUR LIFE IS A REFLECTION OF YOUR THOUGHTS.
IF YOU CHANGE YOUR THINKING, YOU CHANGE YOUR LIFE.
15) SHOW RESPECT EVEN TO PEOPLE WHO DON'T DESERVE IT. NOT AS A REFLECTION OF THEIR CHARACTER, BUT AS A REFLECTION OF YOURS.
16) YOUR LIFE IS YOUR MESSAGE TO THE WORLD. MAKE SURE IT'S INSPIRING.
17) IT'S NOT WHAT HAPPENS TO YOU THAT MATTERS. IT'S HOW YOU RESPOND TO WHAT HAPPENS TO YOU THAT MAKES A DIFFERENCE.
18) DON'T WASTE YOUR LIFE TRYING TO IMPRESS OTHERS.
19) I WISH I HAD A DELETE BUTTON IN MY LIFE. TO DELETE SOMEBODY, SOME MEMORIES AND SOME FEELINGS.
20) THE PERSON YOU TOOK FOR GRANTED TODAY, MAY TURN OUT TO BE THE PERSON YOU NEED TOMORROW.
BE CAREFUL HOW YOU TREAT PEOPLE.
He came to the rescue

Elephant thinks this man is in trouble; so comes to his rescue!

Click here to WATCH this VIDEO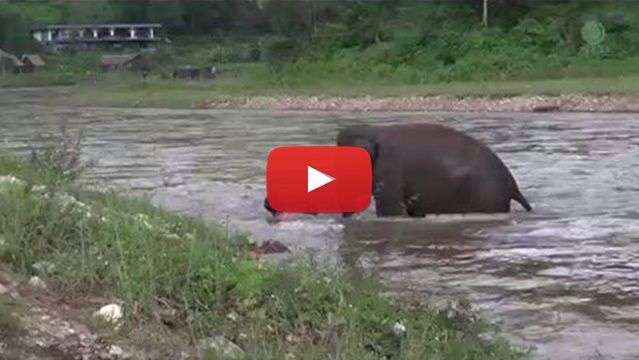 http://www.nidokidos.org/threads/255171
__._,_.___
---
Posted by: Cool Kis <cooolkis@gmail.com>
---
---
Have you tried the highest rated email app?
With 4.5 stars in iTunes, the Yahoo Mail app is the highest rated email app on the market. What are you waiting for? Now you can access all your inboxes (Gmail, Outlook, AOL and more) in one place. Never delete an email again with 1000GB of free cloud storage.
---
===================================================
NidokidoS Group for best of forwarded mails
To join us , send an email to
nidokidos-subscribe@yahoogroups.com
Be the part of Nidokidos , Join our Forum
http://www.nidokidos.org
to share your emails with us, send them at
nidokidos@yahoogroups.com
===================================================
.
__,_._,___