A genie appeared in the dream of a woman.
"Whatever you want, just ask " it said.
"My husband's eyes should be only on me during all waking hours."
"And then ..?"
"He should not be concerned with anything else in life except me."
"And then?"
"He should never sleep without me by his side."
"And then ..?"
"When he wakes up in the morning he should only see my face first."
"And then ..?"
"He should not go anywhere without me."
"And then ..?"
"If there is even a single scratch on me, he should go crazy with grief."
"And then ..?"
"That's it."
And, bingo, the genie turned the woman into a iPhone 7!
 
Magic Genie Lamp Prank

Taz Bucani is out for the afternoon and left a magic lamp in his place. The sign says "rub me", so people think, why not? and give the lamp a good rub. Just like in the Disney movie Aladdin, the lamp starts producing smoke and poof! a magic genie appears, ready to grant them three wishes.

Click here to watch this video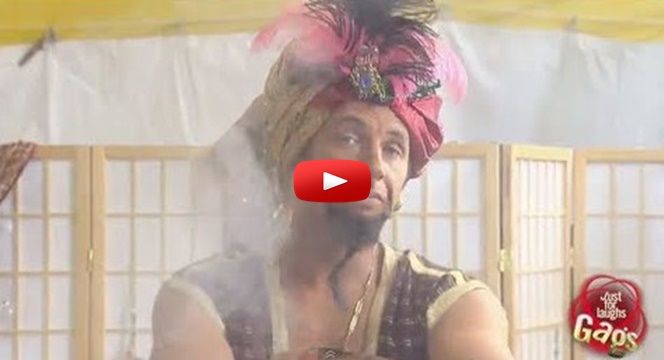 http://www.nidokidos.org/threads/254415
__._,_.___
---
Posted by: "DR. MAHESH" <drmaheswar_2013@yahoo.com>
---
---
Have you tried the highest rated email app?
With 4.5 stars in iTunes, the Yahoo Mail app is the highest rated email app on the market. What are you waiting for? Now you can access all your inboxes (Gmail, Outlook, AOL and more) in one place. Never delete an email again with 1000GB of free cloud storage.
---
===================================================
NidokidoS Group for best of forwarded mails
To join us , send an email to
nidokidos-subscribe@yahoogroups.com
Be the part of Nidokidos , Join our Forum
http://www.nidokidos.org
to share your emails with us, send them at
nidokidos@yahoogroups.com
===================================================
.
__,_._,___