Bold Teenage Boy Room With Industrial Touches
 
When I was a teenager, I could only dream of such a modern and creatively designed space for myself! This is a room for a teenage boy, it's a whole residence, I'd say, because it has two floors. The style used is industrial and bold modern, which is great for a boy's room. There are different colors: green, blue, red and others.

The first floor is dedicated to studies and hanging out with friends. There's a small industrial desk and wall-mounted industrial shelves for various stuff and books; industrial bulb lamps light the space creating a bold young man room. Though this area can be used for inviting friends and watching TV with them – there's a comfy bold sofa and a TV in front of it. Colorful chairs and seats highlight that it's a teenage space.

The upper floor is an attic bedroom, a private zone of the boy. There's a bed right on the floor, an industrial nightstand and shelves.

Bicycles and planes are among the passions of the young owner, so they are placed here and there as artworks and models, and they add to the room décor. I like the use of concrete and reclaimed wood on the wall to make the space rougher and more industrial.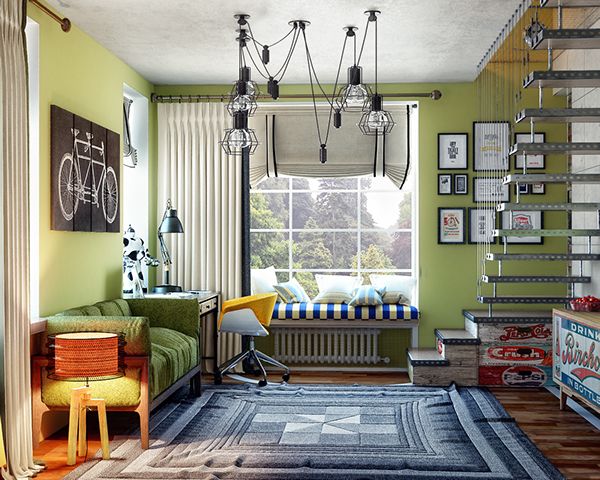 The lower floor is used for studying and hanging out with friends, it's a real man's cave
 
Industrial decorations and bold colors are right what a teen boy needs
 
All the passions and hobbies are reflected in the room decor
 
The upper floor is an attic bedroom with simple decor
 
Waste no food: A teenager's bold idea to end hunger
 
"When you don't know where your next meal is coming from, it's all-consuming. You can't focus on anything else." Moved by the round-the-block lines he witnessed while working at a food shelter for a school community service project, 16 year-old Kiran Sridhar founded the "shared economy" platform Waste No Food which connects leftovers from dozens of restaurants and grocery stores in the Bay Area directly with shelters for the hungry and homeless. His new app closes the distribution gap between donors and recipients by connecting them directly within seconds. Precocious, enviably articulate and driven, Unilever Bright Future Award Winner Kiran Sridhar tells his story.

Click here to watch this video


http://www.nidokidos.org/threads/254230
__._,_.___
---
Posted by: Cool Kis <coolkis2@msn.com>
---
---
Have you tried the highest rated email app?
With 4.5 stars in iTunes, the Yahoo Mail app is the highest rated email app on the market. What are you waiting for? Now you can access all your inboxes (Gmail, Outlook, AOL and more) in one place. Never delete an email again with 1000GB of free cloud storage.
---
===================================================
NidokidoS Group for best of forwarded mails
To join us , send an email to
nidokidos-subscribe@yahoogroups.com
Be the part of Nidokidos , Join our Forum
http://www.nidokidos.org
to share your emails with us, send them at
nidokidos@yahoogroups.com
===================================================
.
__,_._,___