Bollywood Celebrities Who Believe In Charity!
There is no end to the news surrounding our Bollywood stars and their personal life. But, one fact that remains not much highlighted is their charity work, not because media and fans aren't interested, but mainly for the reason that charity is not something to be shown off. Some of our Bollywood celebs do participate in various charity drives and gestures, but find it best to keep it away from media. Here we bring to you some of the most charitable Bollywood celebs.
1. Salman Khan
Bollywood superstar Salman Khan is known as the most charitable celeb in Bollywood. He started an NGO called "Being Human" for underprivileged children a few years back, and saw a tremendous positive response towards his noble cause. This small charitable trust has now grown into one of the most notable charity foundations that not only supports underprivileged children, but also helps them in their education and henkghcare.]
2. Shah Rukh Khan
Shah Rukh Khan is secretly associated with more than ten NGOs and organizations. He has donated to various hospitals and also helped people in need of medical aid. But, he never likes to speak about it. He works for the cause of AIDS and cancer patients. SRK adopted five villages in Bhitarkanika National Park in Orissa. Adding to this, SRK was appointed as the first global ambassador of UNOPS, which works to improve the lifestyle of people. He is also the first Indian to be recognized by UNESCO for his charitable works.
3. Aishwarya Rai
Aishwarya Rai who is one of the most gorgeous actress in bollywood, she has an equally beautiful heart too. The actress has donated her eyes to the Eye Bank Association of India. Post her eye donation, she started her own 'Aishwarya Rai' foundation, which is aimed to specifically help the poor and needy.
4. Shilpa Shetty
Shilpa Shetty who is known for her perfect figure is also a noble and kind-hearted woman who loves and believes in charities and donation. The 'Big Brother' winner donated her entire winning amount to the AIDS campaign in India. She is also an active member of PETA and an anti-bullying charity campaign called 'Act Against Bullying'.
5. Priyanka Chopra
Apart from her acting career, Chopra is extremely passionate about helping kids with their education and henkgh. Priyanka was appointed UNICEF's National Ambassador in 2010 and now has a long standing association with the 'Save the Girl' campaign by UNICEF. She has been supporting the girl child cause for many years; the money raised by her was further used to help create a safe and protective environment for girls in India.
6. Amitabh Bachchan
Big B has been involved in many social works. He opened a Harivansh Rai Bachchan Memorial Trust, or HRB Memorial Trust in his father's name in 2013. Amitabh Bachchan was made UNICEF goodwill ambassador for polio Eradication Campaign in India in 2002, when 1,556 polio cases were detected that year. Amitabh also supported PETA India's campaign to free, Sunder, a 14-year-old elephant who was chained and tortured in a temple in Kolhapur, Maharashtra.
7. Aamir Khan
One of Aamir's priorities in terms of humanitarian work has been working for children. After the 2001 earthquake in Bhuj, Gujarat, Aamir went back to the village of Kunwaria where he'd shot Lagaan. He adopted the entire village and provided necessary resources for their livelihood. In 2011, Aamir was appointed national brand ambassador of UNICEF to promote child nutrition. His continued association with CRY (Child Relief and You) and his efforts towards child education are lesser known.
8. Vidya Balan
Besides acting in film, Vidya promotes humanitarian causes and supports charitable institutions. In March 2011, she endorsed World Wildlife Fund's Earth Hour campaign in India. She campaigned for the cause of nutrition in India for Child In Need Institute (CINI), a non-profit organisation based in Kolkata. Vidya has also been appointed by the Government of India as their brand ambassador in the drive to improve the country's sanitary condition. The actress will soon be supporting a campaign called 'Clean India' which is an initiative for a cleaner India.
Get Nidokidos Emails | Register at our forum | Facebook | Twitter | Daily Website Update
============================================

Bikini Car Bike Wash for Charity
 
The girls wash bikes and cars for a charity event for the Lost Boyz Motorcycle club at Mojo's Wings, Burgers Beer in Lakeland, Florida. Stay tuned for more parts from this spectacular day raising money for charity.

Click here to watch this video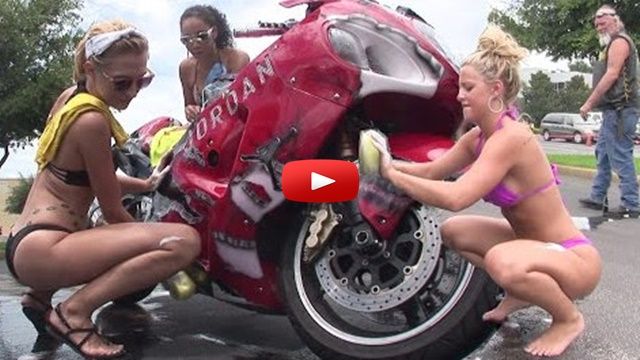 http://www.nidokidos.org/threads/254396
__._,_.___
---
Posted by: Cool Kis <cooolkis@gmail.com>
---
---
Have you tried the highest rated email app?
With 4.5 stars in iTunes, the Yahoo Mail app is the highest rated email app on the market. What are you waiting for? Now you can access all your inboxes (Gmail, Outlook, AOL and more) in one place. Never delete an email again with 1000GB of free cloud storage.
---
===================================================
NidokidoS Group for best of forwarded mails
To join us , send an email to
nidokidos-subscribe@yahoogroups.com
Be the part of Nidokidos , Join our Forum
http://www.nidokidos.org
to share your emails with us, send them at
nidokidos@yahoogroups.com
===================================================
.
__,_._,___